PARIS — It might not be too long before your average mobile PC will feature — on its motherboard — not just CPUs and GPUs but also an embedded AI inference chip, like the Intel/Movidius Vision Processor Unit (VPU).
The first clue for this scenario unfolded in Microsoft Corp.'s launch announcement today, at its Windows Developer Day, of Windows ML, an open-standard framework for machine-learning tasks in the Windows OS. Microsoft said that it is extending Windows OS native support for the Intel/Movidius VPU. Implied in the message is that Intel/Movidius has taken a step closer to finding a home not just in embedded applications, such as drones and surveillance cameras, but also in Windows-based laptops and tablets.
In a telephone interview with EE Times, Gary Brown, director of marketing at Movidius/Intel, confirmed, "Although today's announcement isn't about that [VPU integration on a mobile PC], yes, you will see VPU migrating into a PC motherboard."
Windows ML is expected to bring Windows up to date in the fast-heating AI world. It will "dynamically determine the most suitable hardware for any given AI workload and intelligently distribute across multiple hardware types — now including Intel VPUs," according to Intel/Movidius.
Brown explained, "Our VPU can offload heavy-duty AI processing tasks such as vision, face recognition, voice, biometrics, and others from CPUs and GPUs on PCs. VPU can help free up their processing resources."
Intel/Movidius VPU goes mainstream

Kevin Krewell, principal analyst at Tirias Research, told us, "Adding native Windows support will flag developers that the Movidius VPU is going more mainstream."
However, Krewell isn't quite sure if a PC is the right home for VPU. "I can see the VPU as a good addition to AR/VR products like a next-generation Hololens. I'm not sure if it makes sense in a PC — there's plenty of processing power in a PC, including the CPU and GPU to process video. The Movidius VPU works best where the unit is power-constrained, like drones."
He added, "Perhaps this is a first step for Microsoft extending Windows into new areas such as drones and robots."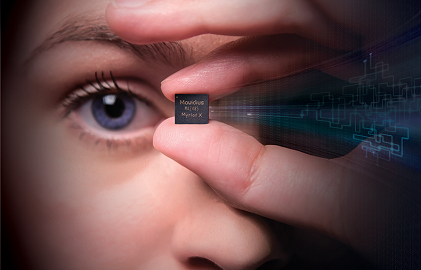 (Source: Intel)
The world of AI is expanding fast, putting Microsoft under pressure to catch up. Last year, Khronos started work on its own low-level ML framework. Like graphics APIs, this is meant to be a generic API. However, as seen in the Windows ML announcement, it's clear that Microsoft would have still needed one that's specific to its Windows OS.
Mike Demler, senior analyst at The Linley Group, observed that Windows ML looks to be like any other neural-network runtime API. However, he added, "It's about time that Microsoft caught up with Arm platforms."
Windows OS native support "gives Movidius better access to the Windows laptop/tablet market," he said.
Asked what's in it for Microsoft, Demler explained, "Developers could already run machine-learning apps on Windows platforms using the CPU, GPU, or custom peripherals like [Intel/Movidius] Myriad, but Windows ML gives them a standard method." For PC users, Windows ML will "help drive the migration of machine-learning apps to client devices — PCs in this case."
News sources:EET Times
Return